ASPEN Integrator builds a bridge between you and your third party systems
The ASPEN Integrator module is a great addition if you use other systems with similar information. It allows a secure exchange of data with external systems in real-time. ASPEN Integrator provides restricted predefined access to third party providers.
You need to leverage your data from all sources to maintain a competitive edge. If you have software and/or an online tool that needs access to customers, parts, units or other information, ASPEN Integrator is for you.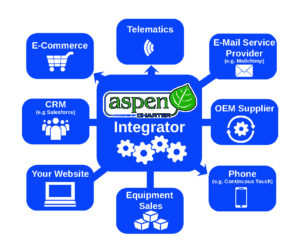 With ASPEN Integrator you can:
Connect multiple data sources including CRM packages, shopping carts, auction & equipment sites, OEMs, email & phone systems.
Keep external data sources current with ASPEN, reducing inaccuracies that happen when duplicate data exists between the various software packages/websites you use.
Run secure live queries to more quickly respond to customers.
Benefits for Dealer Principals:
With ASPEN Integrator, information is available in real-time and on demand. ASPEN Integrator eliminates the need for manual uploads and downloads, and reduces duplicate data entry errors ensuring customer and inventory files are accurate. By using ASPEN as your central data repository, other applications you use become more powerful because they have the most currentand accurate data.
Benefits for IT Professionals:
ASPEN Integrator provides programmatic access to the third party system that your company needs through a simple and secure application programming interface (API). Using parameters, individual or sets of records are retrieved or returned depending on the function called. ASPEN Integrator is used to populate third party applications or interfaces with bulk data as well as to retrieve specific instance data. Full technical documentation and sample code can be provided by your sales representative upon request.
Learn More about ASPEN Integrator