ASPEN provides many 'drillable" reports to track technician time, analyze service department profitability, forecast anticipated profits from open work orders and more!
All of ASPEN's reports run and open in a separate window, allowing the user to easily navigate back into the main program. Most reports have drillable content, which means you can click on links within the report to access the source of the information contained in the report, such as a specific work order, etc. Many reports can be accessed from the ASPEN dashboard, where Information is displayed in simplified visual format. From viewing the graph, the user can take necessary action by clicking on the data in the dashboard and review the data represented.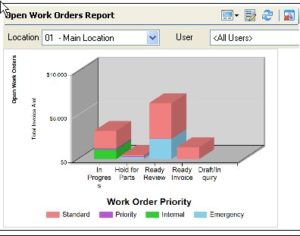 Want to view a sampling of the types of Service reports available in ASPEN?
Simply request access to this area of the site or login if you already have access.
Once you are approved and logged in, refresh this page and you will be able to see a listing of the available reports in the menu at right.
You will also have special access to ASPEN screenshots, videos and more!
At left: ASPEN's real-time, visual overview of Open Work Orders from the ASPEN dashboard. The graph can be set to auto-refresh throughout the day so that up-to-the minute information is displayed. Users click on the open work orders they wish to see.