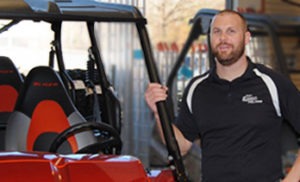 ASPEN works for other industries.
Whether you sell heavy trucks, material handling or other kinds of equipment, the ASPEN Business System dealership management system will help you track your inventory and run your business.
ASPEN's integrated modules for financial management, parts, service, CRM, and whole goods sales will bring strong control to all aspects of your business operations.
"Whether it's farm, industrial equipment or golf cars, we're all selling and tracking iron, just different models. If you want to manage your business profitably and be able to sleep at night, you need a business management system designed for dealers, not an 'off the shelf' accounting package. I highly recommend Charter Software!"

— Brian Schreyer, Apache Golf Cars, Mesa, AZ.