Golf & Turf Distributors need business software designed for your unique needs.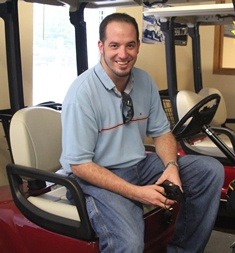 When evaluating how to better manage their businesses, many golf car dealers are finding limitations with their generic off-the-shelf inventory and accounting software. Forward-thinking golf car dealers like Masek Golf Car Company in Commerce City, Colorado, now manage their inventory, rental, service and accounting using the ASPEN Business Software from Charter Software. ASPEN's releases keep the technology current in a changing market and literally changes the way golf car dealers manage their business. 
Coming from a DOS-based system, Jason Masek, President, says ASPEN "opened up a lot of doors" by allowing them to see a "more accurate representation of our day-to-day business." According to General Manager John Halbert, prior to using ASPEN, they continually struggled with keeping control of inventory. John says, "Now I get an immediate update as soon as things go into the system." John also relies heavily on ASPEN's dashboard, which provides a high-level overview of data in a graphic format that allows him to take action right away, right from the graph. "I get a snapshot of everything on one screen—cash on hand/in the bank, outstanding work orders, who is past due, etc. I love the immediate feedback," he says.
"ASPEN is constantly evolving to accommodate the changes in dealership and distribution models."

– Jason Masek, President of Masek Golf Cars of Colorado
Mobile Technology in the Dealership
Using ASPEN's mobile technology (A.I.M.), golf car dealers can access units, customers, parts and rental information from a smart phone or mobile device. These mobile applications are also useful for fleet management—using a hand-held bar code scanner, it's easy to scan serial numbers to apply to rental contracts or invoices in the system.
These are just a few examples of how adopting technology in the dealership can improve processes and ultimately increase your bottom line! ASPEN has many more tools to help dealers lower operating costs, increase annual productivity, gain higher levels of customer satisfaction and improve overall image.