Selection Screens make data discoverable so you can find actionable insights.
Selection Screens offer advanced search capabilities that help you quickly find the information you need to run your business. These custom reports offer different benefits to many different parts of the organization; Sales and Parts users will be able to service customers by finding what they need fast, Accounting will love the ease of finding entries in the system. Watch a short overview video for more information.
Using ASPEN Selection Screens in ASPEN is simple. Users pick from a large list of criteria, ranging from searches on record fields to the name of the last user who changed the record. Criteria based data filters that can then be further manipulated — results are shown in an easy to use grid where records can be grouped, sorted and filtered further. From the results, users can drill down to view the details, including the original transaction or invoice of the record.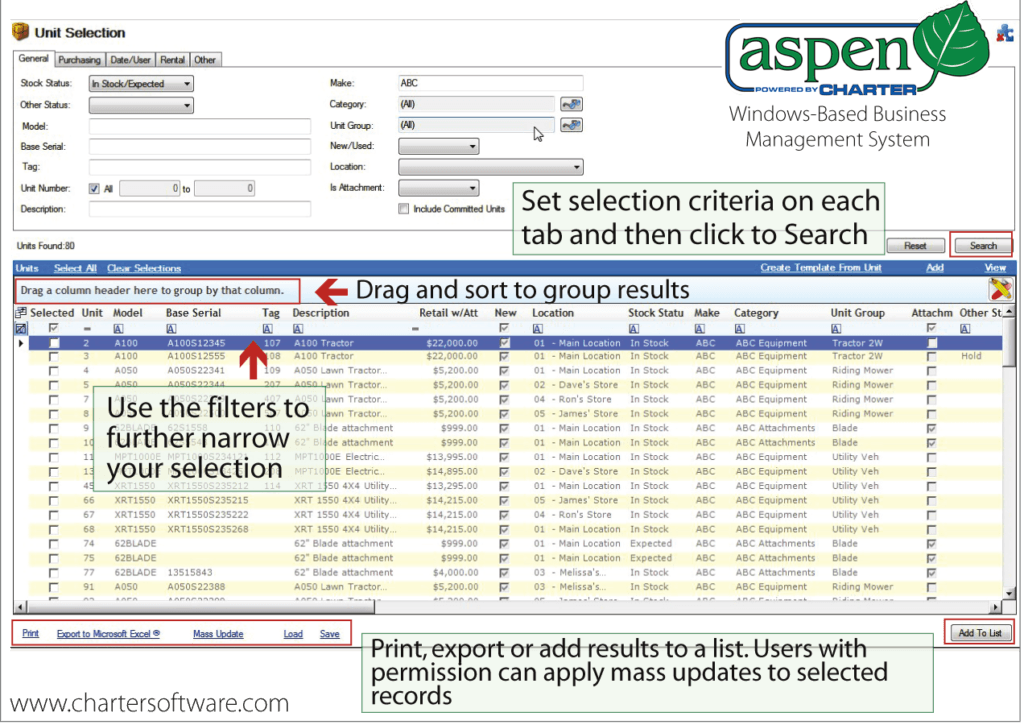 Users can customize layouts and save for use later and create lists from the results to run through basic reports for advanced reporting. All Selection Screen results can be exported to Excel or other formats or printed directly from the screen. Advanced users can apply a mass update to a set of selected records, saving an enormous amount of time otherwise spent updating each record individually.
Use Selection Screens to find:
Units, unit orders or templates
Customer information
Parts and parts count lists
Invoices
Quotes
Work orders
Standard job rates
Rental contracts and unit information
Vouchers
Journal entries
Orders and returns
Notes and Tasks