CLAAS Dealer Management System
ASPEN's CLAAS communications interface makes life easy.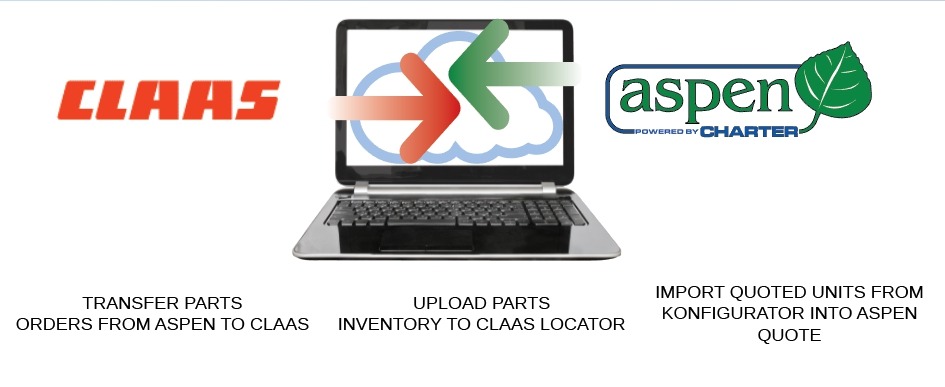 Charter works closely with CLAAS to provide their dealers with the functionality necessary to easily perform daily transactions with Claas from the ASPEN system. This integration allows Claas dealers to streamline work flow, help eliminate errors and be more competitive. CLAAS dealers using the ASPEN system also have immediate access to the latest parts pricing files to help manage their inventory.
For a price value, ASPEN is a no brainer — and employees like it. It is constantly evolving to fill dealers' needs. The templates for equipment save me a ton of time. When we get a shipment in — I just enter them into inventory using the templates.

— Mark Friedrichs, General Manager, Hawke Ag & Co.
The ASPEN CLAAS Communications Interface simplifies dealership communications and transactions with CLAAS by allowing dealers to:
Transfer parts orders to CLAAS from the ASPEN system
Upload parts from the ASPEN system to the CLAAS Parts Locator to share their inventory availability with other dealers
Import a quoted unit from the CLAAS Konfigurator website into an ASPEN quote.
For more information, download the PDF flyer detailing our profit-building solutions for CLAAS Dealers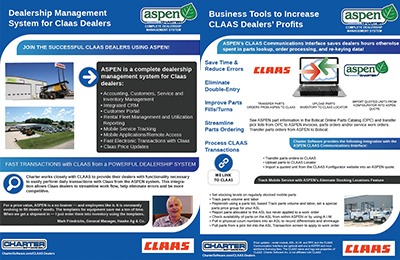 *Charter Software Inc.is not affiliated with CLAAS or the CLAAS brands. The accompanying logos are registered trademarks used with permission of the manufacturer.