AGCO Certifies ASPEN Dealership Management System's Integration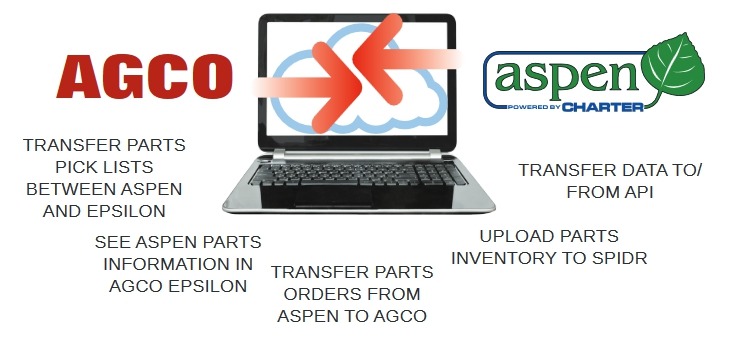 AGCO Communications Interface and AGCO Plus+ are both available for ASPEN.
Charter Software is proud to be one of the select business management software vendors certified to work with AGCO to provide integration to their systems. Charter works closely with AGCO to provide their dealers with the functionality necessary to meet AGCO Dealer Excellence program requirements, as well as tools to remain competitive, streamline work flow and help eliminate errors.
ASPEN's AGCO Communications Interface allows AGCO dealers to update parts prices and substitutions, transfer parts orders to AGCO and upload parts inventory to SPIDR, see ASPEN part information in AGCO's Epsilon1 electronic parts catalog and transfer pick lists from Epsilon1 to ASPEN invoices, parts orders and/or service work orders. Using AGCO API integration, dealers can transfer to and from AGCO the appropriate data required by API for analysis as well as visibility/availability in the AGCO D2D exchange platform. Additional API integration includes the ability to pull down suggested orders/returns through AGCO's API.
AGCO PLUS+ Integration in ASPEN
Quickly process AGCO PLUS+ Commercial Customer Credit transactions directly from ASPEN's POS or work order screen with the ASPEN AGCO PLUS+ Interface. Safely store AGCO PLUS+ customer numbers in ASPEN to save processing time and enable quick balance inquiries from the Customer record.
"Dealers using API integration are more confident and sell more parts— everybody wins when AGCO's reputation for customer service increases."
Gregory Pumo, Manager, AGCO Parts Integration (API)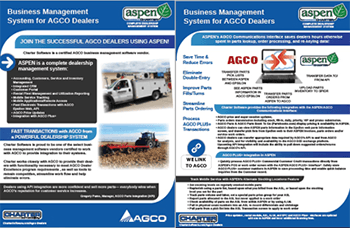 *Charter Software Inc.is not affiliated with AGCO or the AGCO brands. The accompanying logos are registered trademarks used with permission of the manufacturer.