ASPEN Customer Portal is included at no additional charge.
As a Dealer or Distributor, you're always looking to provide better customer service than the competition. ASPEN Customer Portal provides customers with read-only access to their information including addresses, phone numbers and email addresses on file. Customers can also see and reprint invoices, and if configured, customers can pay outstanding invoices by credit card using ChargeItPro which helps reduce late payments and improves cash flow.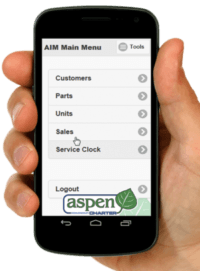 All activities a customer uses the portal for are updated in ASPEN's integrated Customer Relationship Management (CRM) database.
Customers love the convenience of managing their account or ordering parts anytime they want. Dealers and distributors appreciate the added customer service.