Profit-Building Management Tools for Mahindra Dealers.
ASPEN is a real-time business system that provides up to the minute detailed information on key performance statistics and financials—right from the system's continually refreshed system dashboard. Use the integrated CRM tool to market to existing customers, expand customer reach, improve internal communications and quickly access information critical to your business.
We help Mahindra dealers conquer the daily challenges of managing a profitable equipment dealership. Through the ASPEN Mahindra interface, users submit parts orders directly to the Mahindra Parts System (Intelli Catalogue), eliminating the manual work of re-keying orders. And, because our development team works closely with Mahindra, any additional integration is added as it's introduced.
ASPEN Price Files for Mahindra
With just a few mouse clicks, you can load the entire Mahindra parts price list into ASPEN. Save time and reduce errors by not having to look up the part number or key in description and pricing.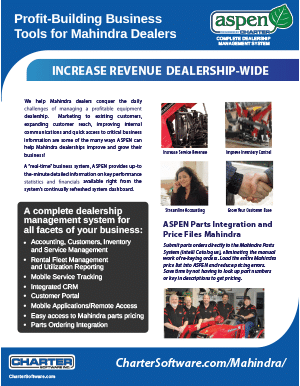 *Charter Software Inc.is not affiliated with Mahindra or the Mahindra brands. The accompanying logos are registered trademarks used with permission of the manufacturer.