A.I.M. Mobile Access — Manage Your Business from Anywhere
Charter Software is proud to have the best mobile tools in the market. A.I.M. (ASPEN Interactive Mobility), provides mobile access to all the information in your business management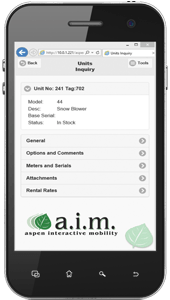 system from any smartphone or tablet. No more waiting to make a call – get the information you need wherever you are.
View detailed customer, parts, and units information, as well as equipment and work orders.
Empower technicians in the field – clock on, check parts inventory, read customer notes, create work orders, upload images and collect payment from the field. They can even log customer interactions using the voice-to-text feature.
From a customer record in A.I.M., touch the phone number to call, address to get directions, or envelope to send them an email.
Use A.I.M. to speed up the physical inventory process, or access inventory information right from the showroom floor or yard.
Review invoices and customer interactions on the fly.
Create, edit and finalize invoices from anywhere.
Learn more about A.I.M. Mobile Access