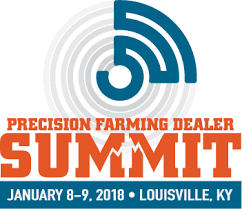 Last week, I attended the Precision Farming Dealer Summit in Louisville, KY. I attended this event last year and, once again, it was an incredible two days of Precision Ag specialists discussing changes in the marketplace and how to improve their services.
There were three big topics of discussion:
Dealers have created Precision Ag departments to maintain customer continuity. Essentially, they don't want to lose customers to another dealership that carries a competing tractor brand so they've added a Precision Ag department. Most attendees from dealerships represent a big-name agricultural equipment OEM that makes up the bulk of their revenue.
Precision Ag departments struggle with charging an annual fee for their services. Farmers are slowly accepting the idea of committing to a Precision Ag service subscription to keep their ag-based technology tools running from planting through harvest. Most dealers include additional benefits for signing up for the subscription like discounted labor, loaners, a special support phone number, software updates and extended hours to help farmers justify the cost.
Tracking profitability is difficult. Service plans vary (some charge by customer others by each piece of equipment) and often include pre-planting and pre-harvest consulting sessions, training, and unlimited telephone support making it hard to compare margins across plans.  Farmers also often have the mobile number of the specialist they've worked with, making it hard to track and attribute the time the specialist spends on the phone with the customer.
My takeaways?
First, these subscription-based plans are a huge benefit for customers and increase dealer revenue. Any subscription-based business with proven profitability is considered more valuable that fee-based businesses.
Second, as a business system vendor, we need to do a better job addressing two things:
Helping Precision Ag departments determine what they should charge for these contracts to make them profitable.
Creating an easier way for specialists to track their time. Opening a work order takes too many steps and techs are doing so many calls every day that process isn't manageable.
I love attending these events because it gives me an opportunity to talk directly with dealers to better understand their business technology needs. Hearing about their daily struggles helps me make sure we continue to develop ASPEN to include tools dealers need to flourish.