A Service Manager's role includes much more than just mechanical knowledge. Customer Relationship Management (CRM) skills, the ability to up-sell, and the effective use of technology are additional—and critical—components to a successful service manager's qualifications.
Knowing how to use contact management and CRM functions can be a huge asset to a savvy service manager. These tools, when used within a Dealership Management System (DMS), can greatly impact the service department's contribution to the dealership's overall profits.
How to get started
Start by understanding how a customer's history can be used to create opportunities to reach out to them. Learn how to run the right reports or create specific customer groups within your DMS that help you with this task. For example, generate business by sending out a special promotion to customers who have purchased units or parts but not used your service department. After targeting your desired customers, use your DMS to create your desired mode of communication: an e-mail, mail merge or internal follow-up tasks within the system. Regardless of which method you choose, when used correctly, the CRM will log a permanent record of the communication on the customer record so you can report on it at a later date.
Keep it going
Consistently logging all communications and tasks contributes to a rich history that others in the dealership can benefit from—THIS is the central function of a Customer Relationship Management! As you use the tool more, you will gain a better understanding of how all the pieces fit together, and how information that YOU save and store might benefit other departments. Ease of access to "360° customer information" allows ALL dealership employees to be more responsive to customers' needs and greatly improves customer service!
Ways the service department can use a CRM:
Track expiring warranties or past due tune-ups to get customers in for service
Filter/sort your completed work orders or equipment pickups by zone, and create a call or e‐mail list to notify customers
Record any incidents, complaints, etc. and create appropriate tasks for follow‐up
Store service quotes and create reminders for follow-up calls.
Manage tasks and communications between technicians
Manage workflow, e.g., reviewing & finalizing work orders
Log any onsite customer repairs with future follow up dates
Use product registrations and information about equipment owned to contact customers in the event of product recalls
To learn more about how your business can improve across departments, download our free whitepaper "Connect Your Departments With CRM"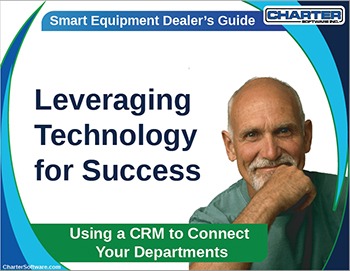 {{cta('a7cb86eb-a77c-418e-a9e7-b2872d302fc3′,'justifycenter')}}