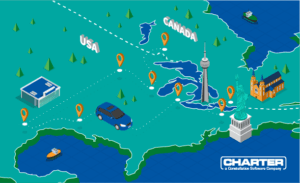 After years of virtual communication, the Charter team was finally able to hit the road and resume in-person customer meetings! Over the past several months, our team set out to meet up with some ASPEN customers to learn firsthand about the goals, values, challenges, and triumphs that are top of mind for dealers in 2022.  
Based on your feedback, here's what we learned: 
Trends for 2022
Inventory Management 
As many dealers are facing limited inventory due to supply chain issues, most customers have started taking pre-orders for equipment, and some are growing their rentals operations. Tools such as the Parts Locator and Equipment Locator (launching in 2023) are both in ASPEN's innovation pipeline and will help customers find the parts and equipment they need to continue delivering exceptional customer service. 
Labor shortages 
According to Laura Wickard, Implementation Manager at Charter, "every dealership [she] visited recently had open positions, but they can't get people to even apply for jobs." While dealers work to fill these roles with skilled labor, it's important to look for ways to make your dealership process more efficient, so they can do more with less. A good first step is looking for ways to automate tasks at your dealership, to free up your employees' time. 
Charter customers can also leverage the Dealer Portal for training resources, how-to guides and ASPEN tips & tricks to improve employee efficiency. We are also working on offering more training guides and webinars throughout the year to help you onboard new staff and get the most out of your system.
Managing OEM Relationships 
Over the past few years, OEM's have been increasingly more involved in dealership decisions, including influencing software choices, asking dealers to increase their market share, and dictating what lines are carried. While it is especially important to build positive relationships with your manufacturers, keep in mind that only you know what is best for your dealership, and external parties may not have visibility into the complex considerations for your business. 
This year, Charter is working with John Deere, CNH, Krone, Polaris, and Kubota on new interfaces. If you carry one of these brands, reach out to a member of our team to learn more.
How Charter Is Addressing These Challenges
With a new dedicated General Manager, Charter is committed to building new tools which will help our customers grow. This includes investing in our existing business management system, as well as finding innovative technology solutions for challenges dealers are facing.  More details coming soon… 
Meeting with dealer's face to face has been an incredible way to learn more about how ASPEN has helped dealers grow and how we can improve ASPEN to help drive your dealership forward. We will continue to support and grow ASPEN based on customer feedback and look forward to an ongoing dialogue.   
Want to find out more about Charter's ongoing mission to support ASPEN dealerships?
About Charter Software Solutions Inc.
Charter Software provides scalable, integrated, Microsoft-based, business-management software to hundreds of equipment dealers in North America. Designed to increase efficiency and communication across all departments, Charter's business-management software, ASPEN, provides tools that help dealers manage their businesses more profitably. Charter's close relationships with the industry's leading manufacturers and suppliers provide streamlined system integrations, strengthening dealers' and distributors' connections with their business partners.